Which Basketball socks are best for athletes?
The game of basketball is quite vigorous and it involves intense physical activities like jumping, jogging, running, etc. Athletes need to maintain their physical fitness strictly. Outside the court, a basketball player is mostly busy with major workout activities. So during the basketball game and exercise, a player requires complete protection for all body parts, especially for feet and ankles.
A high-quality pair of basketball socks are a key to well-protected feet and ankles. The fabric of basketball socks must be capable of absorbing excess sweat produced during physical activities and resilient to tearing due to friction. It is very important to wear a pair of socks specially designed for the basketball sport to enhance player's performance on the court.
A perfect pair complement basketball shoe and provides support to minimize the chances of feet getting injured during the play when a player make various movements. Also, the perfect pair keep the feet dry and comfortable. So the perfect basketball socks prevent a player from blisters and infection due to friction and sweating respectively.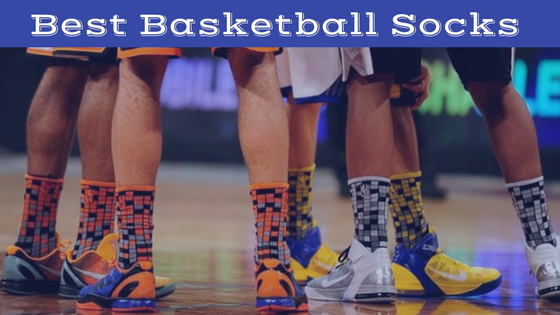 Top picks
Qualities of a best basketball socks pair
Basketball socks are quite different from regular socks due to multiple reasons. Regular socks can never be a replacement for professional basketball socks in court. Some important features and characteristics of basketball socks that differentiate them from regular socks are as under,
Durability:
Basketball socks are specially designed in such a way that they remain intact and last longer than casual socks. Special durable materials are used for their manufacturing, they are woven in an adequate thickness. Appropriate material and thickness enable them to resist tearing and loosening while repeated washing, continuous physical movements, and all other agents of tear and wear in the court and during warm-up exercises.
Moisture draw-off capability::
The game of basketball involves intense physical activities, the feet of the player sweat a lot during jumping and running all over the court. So the basketball socks are designed with excellent moisture draw-off properties to make them capable of absorbing all the sweat. This property ensures that a player's feet remain dry and comfortable so that the game can be played with full concentration.
Breathable:
It is important to use such a manufacturing material that makes basketball socks breathable and enables free airflow in and out of the socks. The breathability of fabric further contributes to keeping feet dry and comfortable. This characteristic prevents bacterial and especially fungal-born skin infections.
Cushioning::
The basketball socks are also manufactured with special cushioned zones mostly at the heel and ankle area. These cushions help keep off minor injuries as a player makes cuts and slides his feet in the court. Cushioned heels also prevent feet ache and tiredness to some extent which normally happens after tough physical activities.
Antimicrobial properties:
Some basketball socks are specially designed with specific antimicrobial technology like enhanced breathability and balanced pH that helps prevent bacterial growth and keep fungal spores away. Such socks maintain an internal environment that is not suitable for any kind of microbial growth so the feet don't smell bad and there remain almost zero chances of skin rashes and infections.
By considering all those properties some best-reviewed basketball socks are given from amazon:
Best Basketball Socks Comparison Table 2022
6 Best Basketball Socks 2022
These socks are the best-reviewed and consumer's first choice. Under Armour Adult Performance Tech No Show Socks comes with the following characteristics:
They are made up of 69% Polyester, 28% Cotton, 3% Spandex.
The socks come with pull-on closure hence the player can easily wear and remove them in no time.
The material is durable and sustainable and can be easily washed in a washing machine.
These socks provide medium cushioning throughout the foot for all-day comfort and protection.
There are specially designed mesh panels for enhanced breathability and keeping the internal environment moisture-free.
This socks pair comes with arch support embedded in that helps reduce foot fatigue even after long games and workout sessions.
The heel perfectly fits and contours around the foot.
Special built-in anti-odor technology prevents any kind of unpleasant odor in the sock.
Hence, The material of socks is quite porous which reduces the accumulation of sweat and dries fast.
Some features of these basketball socks are:
It is made in the USA with built-up material composed of 86% Acrylic, 12% Nylon,2% Elastic.
They are machine wash but they should turn inside out and also any liquid fabric softener is recommended by manufacturers.
They provide maximum comfort and protection and they are rendered the most cushioned athletic sock.
This sock has legendary padding in the heel and forefoot, special padding used in this sock is clinically shown to reduce blisters, moisture, pain, and pressure.
The fibers are highly porous and dry quickly, also marks with high performance and durability, and can be worn for years.
Also, the design of the sock is made by considering the natural anatomy of the foot and it is marked with the perfect fit.
These socks have the following built-in features:
Fiber content of the socks is 77% Polypropylene, 17% Nylon, 3% Elastic, 3% Lycra Spandex. It can be washed in a machine without any hesitation.
These socks keep moisture away from the skin through capillary action.
The structure provides arch and ankle compression which helps in the reduction of fatigue.
The special cushioning control blisters.
They are very light in wearing and provides a very good fit.
This sock is gender-neutral and can be worn by any gender.
Also, It is crew length and hits mid-calf.
These basketball socks are made up of the following features
The socks are made up of 52% drynamix polyester, 14% mohair, 14% wool, 7% acrylic, 5% nylon, 3% microfibre, 3% neofil, 2% elastane.
The socks are very soft and remain bristle-free, the fiber shows a hollow fiber structure that provides temperature regulations, that keep the feet cool in summer and warm in winter.
Drynamix polyester specialized in keeping moisture away from the skin, and microfiber panels keep the feet dry.
Also, the structure of the sock minimizes friction at the toe area, prevents rubbing on top of the foot, the specially designed extra deep heel pocket keeps socks at their place and prevents them from slipping.
Therefore, these socks have high volume built-in cushioning that provides comfort even for long training periods.
Built-in features of these basketball socks are
The fiber of the socks is composed of 80% Cotton, 15% Nylon, 5% Polyester.
The fiber prevents moisture accumulation in the sock by ventilation through pores and results in dry feet.
Apart from basketball, the socks are best for other outdoor activities like hiking, cycling, camping, running, jogging.
Also, the socks are soft and thick, have a properly cushioned footbed which marks with comfort and protection.
Also, the design of the arch is dynamic and provides compression, support, and stability which prevents foot fatigue and blisters.
These socks are made up of the following features:
The sock fiber is composed of 63-70% cotton/27-34% polyester.
Can be washed in the machine.
The sock fabric pulls sweat away from the skin and keeps the feet dry.
The unique feature of these socks is their terry sole which provides extra comfort and marks with the absorption of shocks during foot drills and lifts hence it is the best athletic sock for all kinds of training sessions.
Therefore, the seamline structure of the sock provides the best fit and complements the contour of the foot.
We hope this guide will provide valuable information and help you figure out the perfect pair of basketball socks for you.